Connect with the whānau this summer with a West Coast roadie. Wanting a true Kiwi holiday with a variety of activities that will keep everyone entertained in the outdoors? A trip that won't break the budget.
Westport to Oparara Arches
2h15min, 119km
At the Northern extent of the West Coast region, the Oparara Arches is an exciting place for families to explore together; with a forest walk leading to the magnificent limestone arches. Remember to take your lunch and a torch for exploring the dark corners of the limestone caves. Guided walks through the caves are also available.
Just north of Westport, the historic coal mining settlement of Denniston offers a fascinating insight into the region's past and the impressive Denniston Incline railway was once described as the 8th wonder of the world! As well as the great signage and interpretation to help you learn more about the area, there's good network of family-friendly mountain tracks at Denniston Plateau.
A great option for a family walk is at Cape Foulwind, located 16km from Westport. There's plenty to keep the kids entertained including a seal colony, a lighthouse and panoramic views of mountains and coastline on this spectacular coastal walkway.
Just south of Cape Foulwind is beautiful Tauranga Bay which offers a great surf beach. You can hire boards, wetsuits or take a lesson with West Coast Surf… the owner Mark Perana is a real West Coast legend!
1h20min, 89km
The main highway between Westport and Greymouth is known as The Great Coast Road has been named one of the Top 10 Coastal Drives in the world, and is a must do for any summer road trip on the West Coast. There are lots of interesting places to stop and explore along the way, and on a hot summer's day a swim at Fox River is hard to beat!
Further down the Great Coast Road, the pancake rocks at Punakaiki are one of the most visited natural attractions on the West Coast, and with good reason - they really do look like pancakes! There a several walks suitable for families and young children. Kids love watching the amazing blowholes which are spectacular at high tide.
Pancake Rocks are part of the Paparoa National Park, which offers excellent opportunities for hiking and mountain biking, but a firm family favourite is to canoe or paddle board up the Pororai River.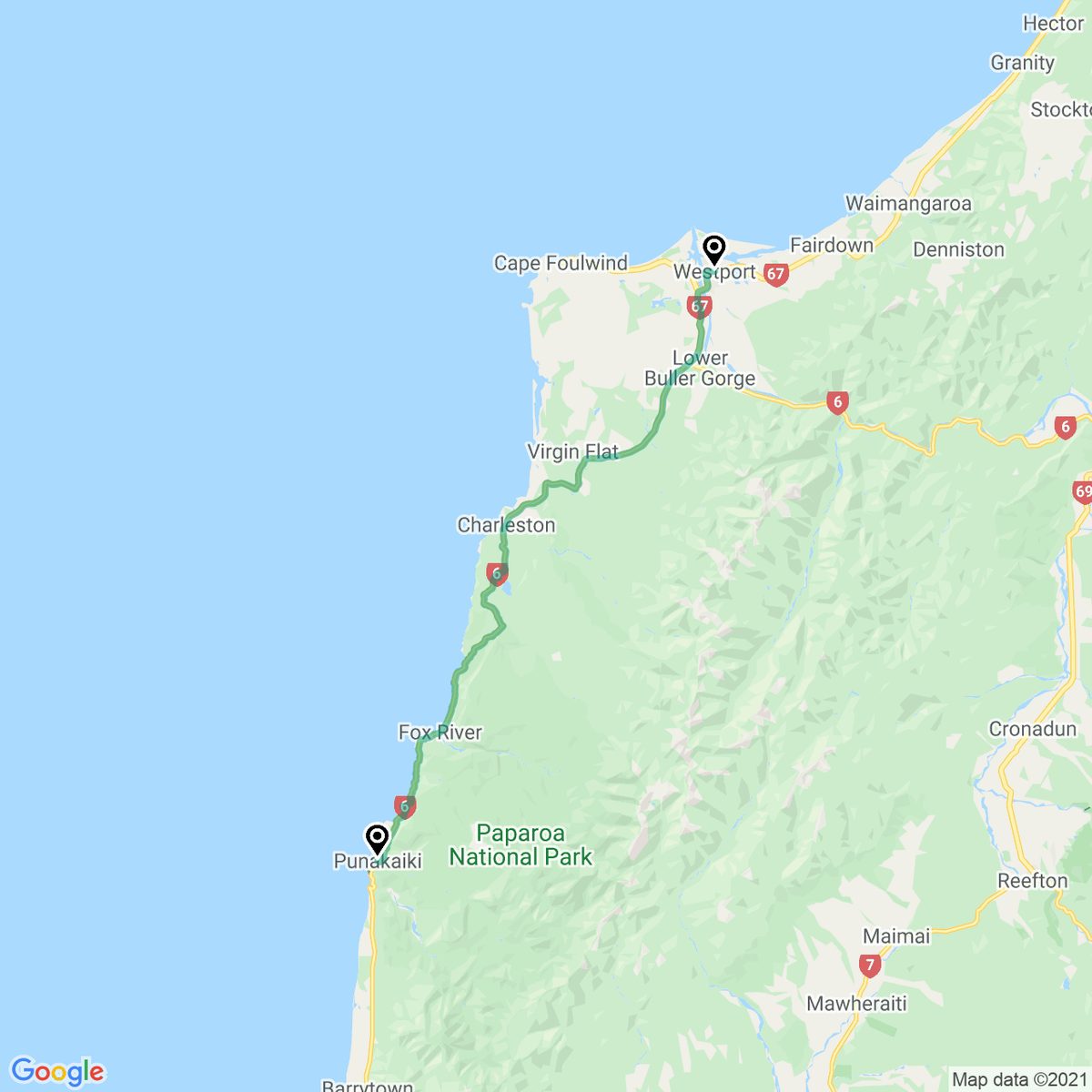 Greymouth to Lake Brunner
35min, 40km
A great inland detour from the Great Coast Road is to visit Lake Brunner.
Lake Brunner is one of the West Coast's most popular summer holiday spots, with a range of water based activities available from sailing, swimming, kayaking, paddle board or fishing.
As well as relaxing and picnicking along the lake, there are has some excellent walks suitable for all ages. The Bain Bay Track is a great option for families which begins with a fun water taxi ride from the town of Moana.
1h10min, 84km
About an hour's drive south of Punakaiki is the cool little beachside town of Hokitika. The region is known as the birthplace of pounamu or greenstone (jade). Kids love fossicking for pounamu, and the nearby beach at Barrytown is a great place to look for greenstone – you can then even learn to carve your own.
Hokitika offers lots of great outdoor activities for families to enjoy their summer road trip. The West Coast Wilderness Trail is a brilliant track for kids, the swing bridges at Hokitika Gorge always delight children, or perhaps try a boat cruise or kayaking on the wetlands of Lake Mahinapua.
To step back in time and understand more about the gold mining history and heritage of the area, a guided tour by horse and wagon along the beach at Barrytown is heaps of fun for children, or visit Shantytown Heritage Park – a faithfully recreated 1900s pioneer town from the gold rush days.
For adventurous families, try quad biking or 4WD buggies through 250 acres of wild West Coast rainforest and farmland with On Yer Bike!
1h40min, 134km
On the road between Hokitika and the glacier towns of Franz Josef and Fox Glacier there are several great place to stop and entertain the kids. Don't miss the West Coast Treetop Walk, just south of Hokitika, or perhaps strike it rich and pay for your holiday by panning for gold at Ross Goldfields
Before reaching Franz Josef, a visit to Okarito Lagoon and beach is a must. The Lagoon is NZ's largest unmodified wetland and home to a variety of rare birdlife including the kotuku or white heron. Kayak rentals and tours are available as well as eco boat tours. There are also some lovely walks available along the beach and through the rainforest with epic views of Mount Cook, the glaciers and Southern Alps.
Just north of Franz Josef, you'll come to Lake Mapourika which is a great place to stop for a swim on a summer's day, to hire a kayak or go on a boat and fishing cruise.
There has never been a better time to visit Franz Josef or Fox Glacier to see the incredible glaciers. Scenic flights and heli-hikes provide a once in a lifetime experience to visit the blue ice, but there is much more to the region than just the glaciers.
Westland Tai Poutini National Park which surrounds Glacier Country, is part of a UNESCO World Heritage Area and is a wonderful area for families to experience a pristine wilderness environment in a safe and easy way. Both Fox Glacier and Franz Josef have a variety of walking tracks for all abilities - don't miss the amazing reflections at Lake Matheson in Fox Glacier, Peters Pool in Franz Josef or the great walks along Gillespies Beach. Another great way for families to experience the landscape and nature of Glacier Country is on a horse trek in Fox Glacier.
The National Park is a great place to encounter rare New Zealand wildlife, but if you're not lucky enough to see a kiwi in the wild, then visit the West Coast Wildlife Centre which breeds NZ's rarest kiwi – the rowi – as part of a unique recovery project with the Department of Conservation and local iwi.
Fox Glacier / Franz Josef Glacier to Haast
1h50min, 142km
The drive south from the glaciers towards Haast is nothing short of spectacular, passing through two National Parks (Westland Tai Poutini and Mount Aspiring National Park), and a UNESCO World Heritage Area with a different view at every turn from snow-capped mountains to rugged beaches.
If the kids are getting hungry, stop off at the Salmon Farm Café, about an hour south of Fox Glacier. The children can feed the fish, whilst mum and dad relax with a coffee.
Further down the road, the short coastal walks at Monro Beach and Ship Creek sometimes offer a chance to see dolphins and even penguins.
At the southern end of the West Coast, Haast is a great place to refuel both the car and the family, and has some great short walks. For a break from driving, check out a jetboat tour with Haast River Safaris.
And what better way to conclude an epic summer road trip down the West Coast than with fish and chips on the beach, and they don't come any fresher or better than at the Cray Pot in Jackson Bay.