Small West Coast town defies the pandemic with tourism growth
New Zealand's tourism industry has been hard hit by the Covid-19 pandemic, but a small town on the West Coast has managed to buck this trend - experiencing a 40% increase in visitor spending despite the closure of international borders.
The historic gold-mining town of Reefton is experiencing a revival thanks to the hard work of passionate residents, strong primary industries, and entrepreneurs moving to the area.
Many of Reefton's historic buildings have had authentic makeovers, leaving the town centre full of busy shops, cafes and art galleries celebrating Reefton's rich past.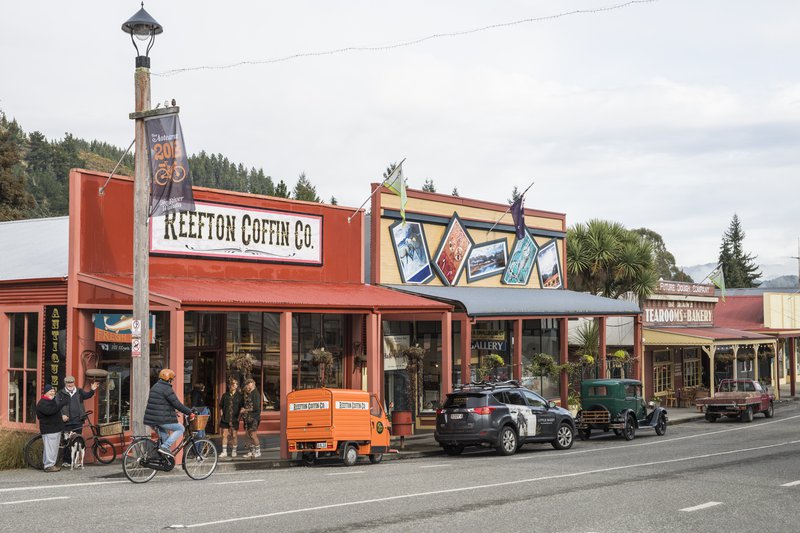 Post-pandemic visitor boom
In contrast to the national trend, visitor spending in Reefton is up by 40 percent - jumping from $5.1m in pre-COVID 2019 to $7.2m in 2021, according to data from MarketView.
The closure of borders saw Reefton lose around $680,000 in annual spending from international visitors, but an influx of domestic visitors has more than made up for it – injecting an additional $2.8m into the economy in 2021 alone.
Development West Coast (DWC) Chief Executive Heath Milne says, "Reefton has been one of New Zealand's post-COVID success stories."
"Reefton is home to some of the best fishing and mountain biking in the world, but what really makes the town stand out is the civic pride and entrepreneurial spirit of locals who have been working together to bring Reefton back to its former glory."
Embracing Reefton's rich heritage
Reefton was a boomtown during the gold rush days, but like many small towns in regional New Zealand it fell into decline towards the end of the 20th century. To counter this locals have been working together, over the past few decades, to revitalise the town.
An early initiative, in 2002, was to reinstate the distinctive character of the town's main street – through the 'Reefton Shop Front Project.'
Regional economic development agency, DWC provided a commercial loan to a community-led group, who were then able to on lend to shop owners at reasonable rates, enabling business owners to renovate their shop fronts in a heritage style.
"The Shop Front project was an innovative model for community economic development, a leap of faith at the time for the investment made," says Paul Thomas who was part of the project team, and also co-invested in the Broadway Tearooms & Bakery, originally built in 1874.
This project helped restore several shop fronts, lighting the spark for future developments.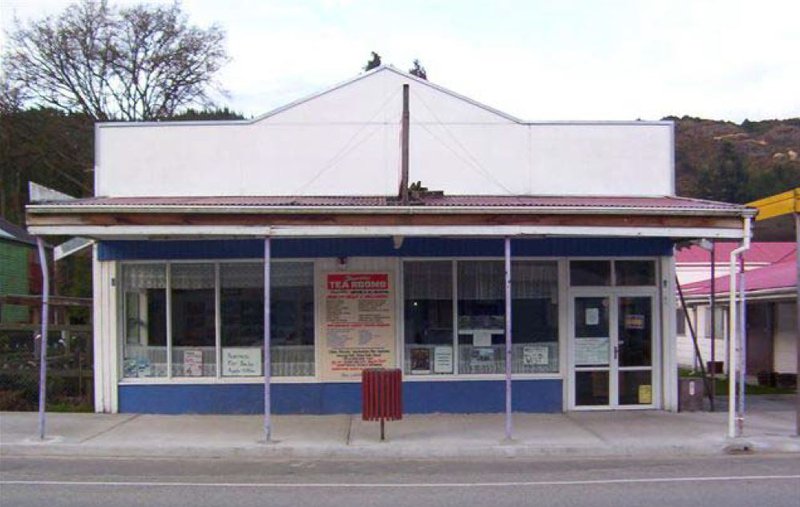 Broadway Tearooms & Bakery in 2003
Broadway Tearooms & Bakery now
Restoration man throws fuel on the spark
The revitalisation of Reefton was supercharged when a high-profile entrepreneur moved to town.
Since 2015, John Bougen, the co-founder of Dressmart and now Buller District councillor, has been involved, in various degrees, in the renovation of around 40 different historic buildings in Reefton, including the original gaol, the School of Mines, Racecourse buildings, the Railway building and a number of shops on the main street, Broadway.
He is currently converting the old state mine workshops into a New York style loft, Ground Floor Reefton, which he plans to move into.
John once travelled to 191 countries in 150 days, but it was Reefton that truly captivated him.
"Reefton is the last true town left in New Zealand. It's big enough to have all the services you need, and small enough that you know everyone.
"There's no traffic. My commute to work is literally 1 second. I just open the door.
"Since Covid, New Zealand has discovered Buller. Visitors are delighted by the heritage restoration in Reefton. The main street is a joy to see."
Helen McKenzie and John Bougen
Returning home
Helen McKenzie grew up in Reefton before moving away in her twenties.
"I was yearning to come back, Christchurch just didn't feel like home," Helen says.
Returning home in 2014, she now runs Dawsons Hotel and loves the 'small town vibe' of Reefton and all 'the interesting characters' living there.
"Reefton is the gateway to the Coast, people come from all directions.
Helen enjoys walking around town and overhearing visitors say how cute the town is.
Making Reefton rainwater sexy
Patsy Bass is another Reeftonian who was drawn back to the town. Born in Reefton, Patsy lived most of her life in Christchurch, but missed the West Coast.
"I bought a bach here around 20 years ago and in 2016 my husband and I began to wonder what life would be like if our house in Christchurch become the bach and we moved to Reefton," Patsy said.
"We felt a sense of community here beyond anything we'd experienced before, so we began brainstorming ideas that would create jobs and a tourist attraction, and also keep us busy – Reefton Distilling Co. was the result.
"The people of Reefton have been enormously supportive of the distillery, with many investing in the business from concept. West Coasters are tenacious and hard-working and roll their sleeves up to get things done. There are incredible skills and experience in the town, e.g. engineers and builders who have been instrumental to our set up," Pasty says.
Reefton Distilling Co. was established in 2017, housed in one of the town's original buildings – the restored 1870s Haralds General Store.
The business has since grown to employ up to 25 staff - including nine students (part-time) from the local high school as production assistants.
The award-winning distillery has become a major attraction, bringing visitors from throughout the country and overseas.
"Visitors to our cellar door are charmed by the heritage town with its movie set good looks, the warmth and friendliness of the people they meet, and the sensational weather," Patsy says.
Reefton Distilling Co. is achieving revenue of over $3m and has far greater growth in its sights, with the imminent opening of a new, larger distillery on the edge of town.
"Once the new distillery is fully operational in the coming weeks, attention will turn to regenerating 1.6 hectares of former farmland with the native botanicals used in Little Biddy Gin, and creating a dedicated guest experience centre," Patsy says.
Shane Thrower and Patsy Bass
Church conversion
Sarah and Andy Parker moved to Reefton from North Canterbury after they fell in love with the town while restoring and converting an old church into a guest house.
"Andy is originally from England so was raised in many historical old buildings, a church renovation was something he'd always wanted to do, so when we saw the opportunity to do this in Reefton we relished the idea," Sarah says.
The Presbyterian Knox Church, now known as the Old Knox Church, was originally built in 1884. It was in a poor state when Sarah and Andy first saw it.
"We could see the potential in the old building and after visiting, we noticed there was a real drive to restore and keep Reefton's historic buildings and rich history, and we've enjoyed being part of the journey," Sarah says.
"The people we'd met during the renovation were so warm, helpful and friendly and really showed us what a community was like, after completing the renovation and experiencing the West Coast we decided to make the move.
"Reefton is a unique town with so much to offer, it evokes a real feeling of nostalgia, because of this I believe people take the time to appreciate their surroundings and feel they can actually relax."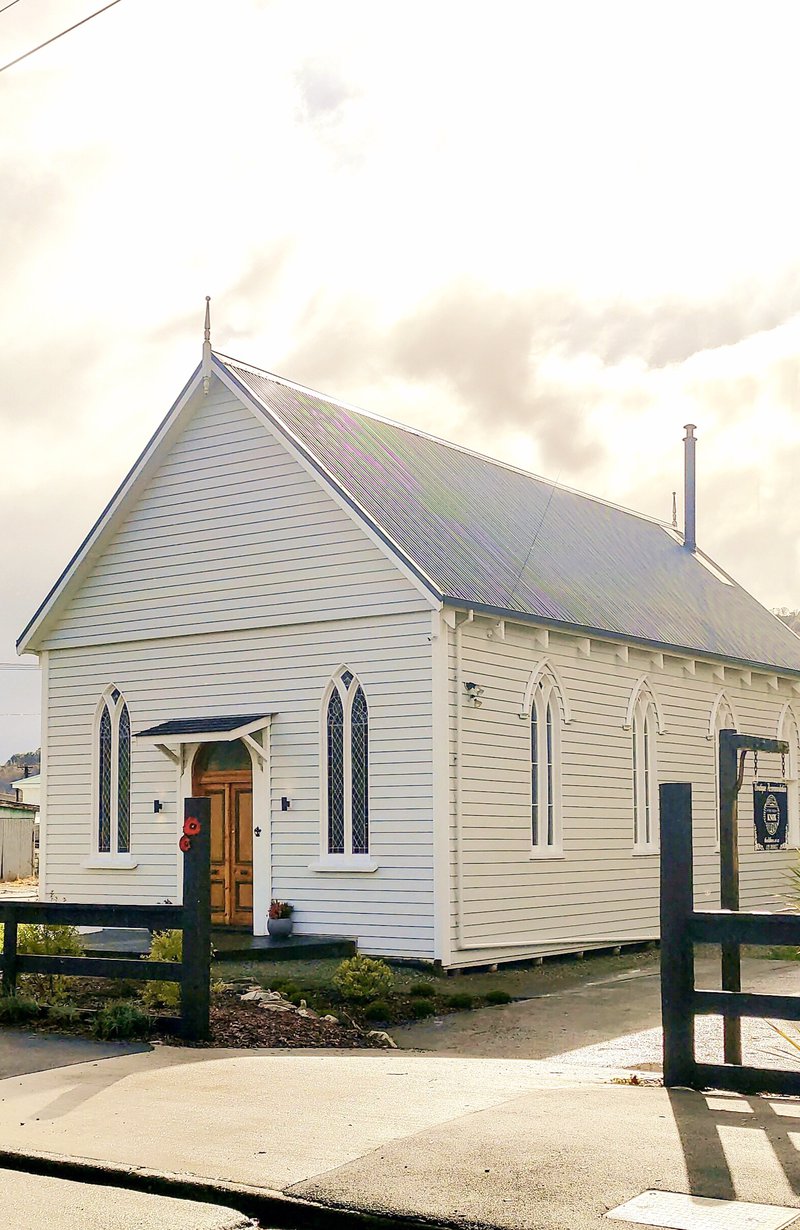 Old Knox Church
Going for gold again
"Unlike many other heritage towns across New Zealand, Reefton hasn't put all its eggs in one basket. It isn't relying just on tourism" Heath Milne says.
Mining is flourishing in the area again, while former mining sites are being carefully rehabilitated. The Department of Conservation has labelled the restoration work done at a former OceanaGold mining site near Reefton as "world-class."
Federation Mining is helping bolster the economy with a new underground gold mining project, which is already employing 48 people.
Tourism, mining, the local dairy industry, and the service sector that supports them, are all contributing to ensure broad based economic growth for the town of 920 people.
According to data from Infometrics, Reefton's GDP has risen from $39.4m in 2019 to $54.1m in 2021 – with a $10.2m increase in economic activity from mining alone.
"Reefton has become an incredibly attractive place, not just for visitors, but for entrepreneurial investors and new residents looking for a better work-life balance," Heath Milne says.