The West Coast is the perfect getaway for couples to relax, unwind and explore.
Waipara to Maruia Springs
1 hour 29 mins, 122 km
After a day exploring the Waipara wine region in Canterbury, meander through the breath-taking Lewis Pass to Maruia Hot Springs, your accommodation for the night.
An award winning hot springs hotel, immerse yourself in the natural mineral hot springs and take in the views of picturesque Lewis Pass National Reserve.
A restaurant is on site, massage options are available, and there are charming short walks at your disposal.
Retreat for the night to your four star quality ensuite bedroom and enjoy the tranquility.
You might love this spot so much, you'll want to stay another night!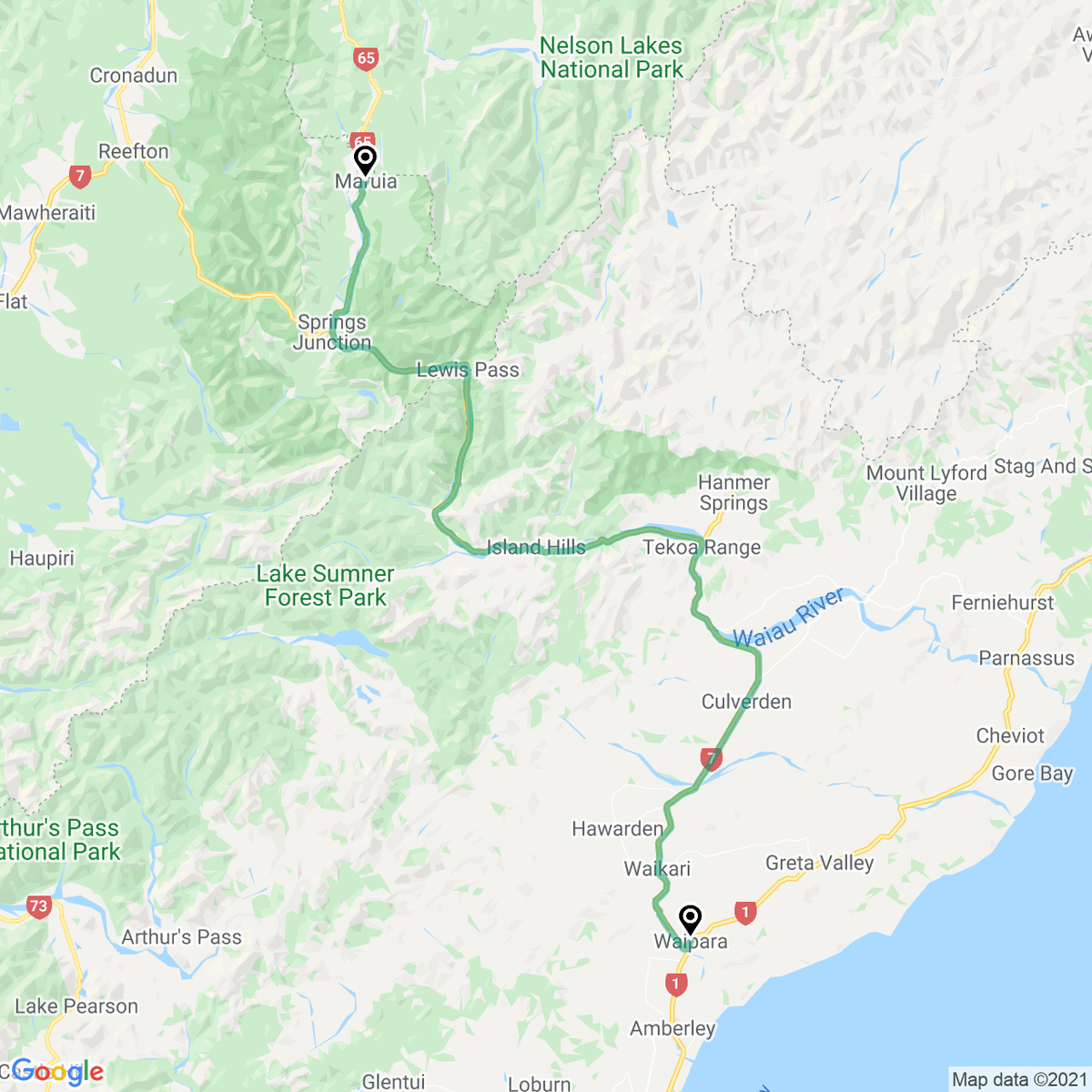 Day 2 - Maruia Springs to Westport
1 hour 48 mins, 139 km
Explore historic mining town Reefton as you make your way through to Westport.
Continue through stunning Buller Gorge on your way to Westport. For a bit of adventure, you may want to try the Buller Canyon Jet experience, a 45 minute rush along the river itself, or the Buller Swing Bridge.
Once you arrive in Westport, explore Cape Foulwind Walkway and check out the Tauranga Bay Fur Seal Colony. For a bit more adventure, try Underworld Adventures in Charleston and go cave rafting.
Day 3 - Westport to Hokitika
1 hour 58 mins, 140 km
Travel down the Great Coast Road, voted on of the top ten most scenic coastal drives in the world by Lonely Plant.
Stop by Pancake Rocks & Blowholes to experience nature at work at the most visited natural attraction on the West Coast.
Grab a bite to eat and go shopping in Greymouth
Explore the jade shops in Hokitika and see the famous driftwood sign on the beach. Venture inland to the iconic Hokitika Gorge and see its radiant turquoise colours.